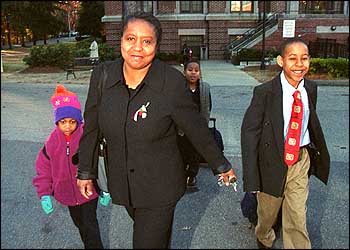 (Globe Staff Photo / John Blanding)
The Sisters of Saint Joseph have given Pauline Fillman, 40 ,and her three children a second chance, with housing and education at Bethany Hill School in Framingham.

fter being divorced and not being able to afford rent, I fell between the cracks. There were days I felt like I wanted to quit.But now I can see my goals. I take my time and try to accomplish them."
Watching her marriage deteriorate had its own emotionally exhausting challenges, but Pauline Fillman, a former Postal Service worker from Framingham, never expected to end up a single mother of three desperately searching for a place to live.
A casualty of the affordable housing crisis that has swept the region, Fillman and her children, ages 5, 9, and 12, found themselves living with friends and clinging to the hope that somehow they would find a place to call home.
Fillman found it, in a four-bedroom apartment, at Bethany Hill School in Framingham.
"I was angry and frustrated about the lack of affordable housing out there," she says. "But the Sisters of Saint Joseph gave me the opportunity to pursue my education the way I wanted to, and being at Bethany Hill has given my kids a positive and supportive environment to live."
A living and learning community of affordable apartments, Bethany Hill School is a unique center that thrives on the concept of "educational housing."The 90 low-income residents are motivated by the Sisters of Saint Joseph, with the help of local social service agencies, to cope with difficult personal circumstances.
Providing educational support in the Boston area for more than 125 years, The Sisters of Saint Joseph founded several Catholic schools including Regis College, Montessori schools, and Mount Saint Joseph in Brighton. To make Bethany Hill possible,the Sisters transformed an unused building on their Framingham campus into affordable apartments for those wishing to change their lifestyle toward an achievable educational goal.
To stay at Bethany Hill,each adult resident must take part in educational programs that provide job skills and improve quality of life.
"I am not a victim," says Fillman, who will graduate from Regis College in May and plans to pursue a career in social work.
"The sisters try to encourage you," she says. "If you're doing what you ought to be doing, they will stand by you. The sisters certainly helped me."
Megan Tench
This story ran on page F3 of the Boston Globe on 11/18/2001.
&copy Copyright 2001 Globe Newspaper Company.