Things are getting stranger, man
By Larry McShane, Associated Press, 12/29/98

Ahhh, 365 twisted days spread across a mere 12 months.

'Twas the year of the beer-deprived prison escapees! (Weird.) The acquittal of the nose-biting judge! (Weirder.) The transsexual who defended her daughter on charges of witchcraft! (All right. It cannot get any weirder than that.)

That's just the tip of the bizarre iceberg that was 1998, when the movie "Titanic'' proved unsinkable but a lot of weird stuff went down.

JUST PLAIN STRANGE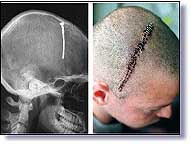 Medical Miracle
Travis Bogumill with a wayward 3-inch nail in his skull. (AP Photo)

An implausible construction accident left Travis Bogumill with a wayward 3-inch nail in his skull. The Wisconsin man survived, with just one side (order) effect: He now takes his eggs sunny side up, rather than over easy.
In eastern Idaho, a local radio station marked Friday the 13th by inviting a bit of bad luck - and got a lot. Four celebratory helium balloons hit overhead power lines, exploded into a fireball and knocked out power to 3,000 households.
A federal judge ruled that a Nebraska public access TV program featuring video of a nude clown was "weird, graphic, unnecessary, distasteful, indecent and offensive.'' It was not, he said, legally obscene.
This Montana trifecta: Angry otters attacked a woman swimming in the Missouri River; a skunk with an empty metal can stuck to its head ran berserk in the town of Havre, and a Helena man was convicted of animal cruelty - kicking a porcupine to death - after police found quills sticking out of his shoes.

THE CRIMINAL MIND(LESS)
No freedom? No problem. No beer? Cruel and unusual punishment, say two West Virginia inmates. Frank Bertrand and Timothy Nottingham broke out of the Prunytown Correctional Center, walked into a convenience store and ordered a six-pack. When the clerk refused to serve them - the pair had no ID - the inmates walked back to jail.
One felon with fries, please: Richard Dean Lauzon Jr. was arrested after his attempt to rob a restaurant in Springfield, Ore. Its owner arrived to find Lauzon's legs dangling from a ceiling vent, with one of his sneakers on the grill and the other in a french fry basket.
Todd Ekmark pleaded innocent to domestic violence while being arraigned, live, by video from county jail in Ravenna, Ohio. Then he turned and dropped his pants, thinking the camera was off. It wasn't. "He mooned me and said, `This is for you, judge,''' recalled Judge Barbara Watson. "And I said, `This is for you.''' The judge sentenced Ekmark to 10 days in jail.
That old Kentucky home has no room for Marilyn Manson. A Kentucky woman paid a harassment fine of $250 for wearing a Marilyn Manson T-shirt - complete with an obscene song lyric - to the "Tater Days'' festival in Benton, Ky. "It was like stepping back into the days of a Salem witch trial,'' said the understated defendant, Venus Starlett Dust Morgan.

HIGH SCHOOL HI-JINKS
A Baltimore high school student/witch was suspended for her spelling - specifically, putting a hex on a classmate. Fortunately, her mother a transsexual who was actually the 15-year-old witch's biological dad - stepped in and straightened things out. The suspension lasted one day. Both mother and daughter remain practicing witches.
Coke good, Pepsi bad. Pepsi T-shirt on Coke Day really, really bad. An Evans, Ga., high school senior was suspended for a day for just such a fashion faux pas, making him a victim of the never-ending cola wars. "I know it sounds bad,'' admitted principal Gloria Hamilton. But, she said, "It was a student deliberately being disruptive and rude.''

BELOW THE BELT
Joe Farmer, owner of two Nevada brothels, reported business was up 10 percent once Viagra hit the market. His only regret: Farmer couldn't peddle the little blue pill on premises at his two outlets, Mabel's and the Cherry Patch.
Cu(l)t hero John Wayne Bobbitt and his surgically-reattached self settled on a new career in '98: celebrity host at the Moonlight Bunny Ranch in Mound House, Nev. "I will do a lot of public relations work,'' he promised.

THE NRA SAYS YOU'RE ON YOUR OWN
Randy Thomas - now known to his fellow inmates as "The BLT'' - was sentenced to 3 years in prison for a bacon-related assault. Thomas and a co-defendant beat up a man, tied him to a tree, and covered him with bacon in the hopes that wild animals would attack. The victim, while greasy, survived.
A Louisiana cop survived a January stabbing by a drug suspect wielding a ... cooking thermometer. Joseph Reed, of Arnaudville, La., wielded the deadly weapon/temperature device during a routine search by police. The officer's life was saved when his bulletproof vest bent the thermometer.
Armed only with his 32 teeth, a West Virginia judge went after a courtroom witness over the man's foul mouth. The now-former judge Joseph Troisi was acquitted this May of federal charges for his unique brand of justice biting Bill Witten on the beak after the defendant cursed him. After months of counseling, Troisi acknowledged his behavior was "bizarre and weird.''

HELLO, 911? ANYONE THERE?
Denver County Judge Claudia Jordan noticed a problem with the windows in her courtroom, so she slipped the court clerk a note: "Blind on the right side. May be falling. Please call omeone.'' The clerk did. She dialed 911, and a stretcher-toting squad of paramedics quickly arrived before Jordan's bench. Sorry, the judge told them: "I wanted someone from maintenance.''
Cynthia Divecha, stunned when her teenage son came out to unload groceries from the family car, sarcastically cracked, "Call 911. I'm having a heart attack.'' The son did just that, summoning authorities in Medina, Ohio. "It figures,'' mom joked later. "The first time he actually does what I ask ... .

"And it's wrong.''